Unique Poetry Book With Songs That Take Your Imagination To New Worlds
If you want a dreamy and delightful experience, you've come to the right place. This unique poetry book has an accompanying song with every poem. Let the music help your mind drift away into new worlds and have beautiful little experiences that may be small, but priceless. Here is the link to get the book on Amazon or the Kindle.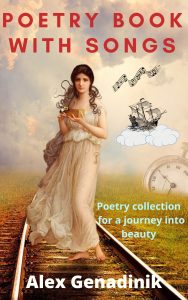 Here is a sample excerpt from one of my poems:
My fingers gliding along your silhouette.
You're breathing with me – our souls have met.
Our eyes close as my fingers track
New Sistine Chapels along your back.
In just four lines, but what I'd point your attention to is the soulfulness of the moment, the rich metaphor of a caress being like a painter's great work – the Sistine Chapel, and how relatable that moment is despite the metaphor being about things that seem to be a world away.
Original Poetry
Half of the poems in this book are my original poems that I set to music. When I write, one of my goals is for the poetry to be rich in enchanting and imaginative metaphors. As a reader, I enjoy being introduced to new worlds and ideas by poets so that's how I try to write as well.
My writing aims to challenge the reader and at the same time welcome the reader to stories and worlds I create that are relatable and feel like a slice of life. When you can relate to the poetry, your feelings open up and you bond with the work through a shared experience – almost as though the poetry is about you.
Translated Poetry From Bulat Okudzhava
Half of the poems in this book are my translations from a Russian poet and singer-songwriter Bulat Okudzhava. He is not well-known in the west, but he was one of the best-known poets and singer-songwriters in 20th century Russia. He was my main inspiration for writing poetry and music, and I am delighted to share his work by translating his poetry and covering some of his songs, which I share with you in this poetry book.
Bulat Okudzhava's poetry is simple, humane, yet very kind, relatable, and philosophically rich. It's a real treat.