Enchanting Woman: Translated and Performed by Alex Genadinik
Alex has translated Oleg Pogudin's song, Enchanting Woman, into English from his native Russian. In this post, we are going to review Alex's version of Enchanting Woman in time for Valentine's Day.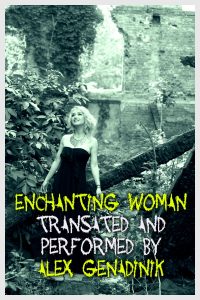 What is Enchanting Woman About?
Basically, Enchanting Woman is a song for Valentine's Day. It is about having love, losing it and looking back at that lost love. Therefore, it is naturally quite a sad song. As someone who has been married for ten years, I know the importance in appreciating what you have. I have never taken my wife for granted. I am thankful to have her in my life every day.
What Are The Origins of Enchanting Woman?
The words for Enchanting Woman were originally written by the Russian poet, Oleg Pogudin and put to music by Bulat Okudzhava. There have been a couple of covers.
Let's watch the videos. The first is Alex's version. We will then see Bulat's version and finally the other cover song too.
Here is the original version by Bulat Okudzhava …
Here is the other cover song of Enchanting Woman…
I, myself, prefer Alex's version. This is because I don't speak Russian so I don't understand the words of the other two versions.
The Lyrics
Verse 1
My soul is taken by one majestic Lady her eyes show glimpses of a different world Where she inspires me to be elegant and tender The flowers dream to bloom as bright as her Where she goes it's as though angels are
Verse 2
Singing with each of them plays golden harps She makes each note drift into in me and take root in my soul Blossom and let me feel her melody
Verse 3
When we're apart, I write her letters in the clouds My smiles kiss her gently with sunlight When I feel breeze, I know she's whispering to me But suddenly She went a different way
Verse 4
Maybe she still remembers me and thinks of me with favor. And so the heavens favor her for that. She probably still writes to me but postmen have grown old And long ago, all the addresses have changed. She probably still writes to me love letters in the clouds But I've grown old and can't read clouds anymore.
What Instruments Are Used in Enchanting Woman?
Apart from Alex's guitar and vocal parts, you can also hear other instruments in the background. These are very subtle, but include a cello and a clarinet. However, these are very quiet and Alex's guitar and voice are the more prominent parts.
Please Subscribe to Alex's Music Channel
If you enjoy Alex's music, why not subscribe to his YouTube channel? You can listen to all of his songs on the channel.